Oak Steakhouse – 17 Broad Street, Charleston, SC
Braised Short Ribs with Roasted Root Vegetable Mash Recipe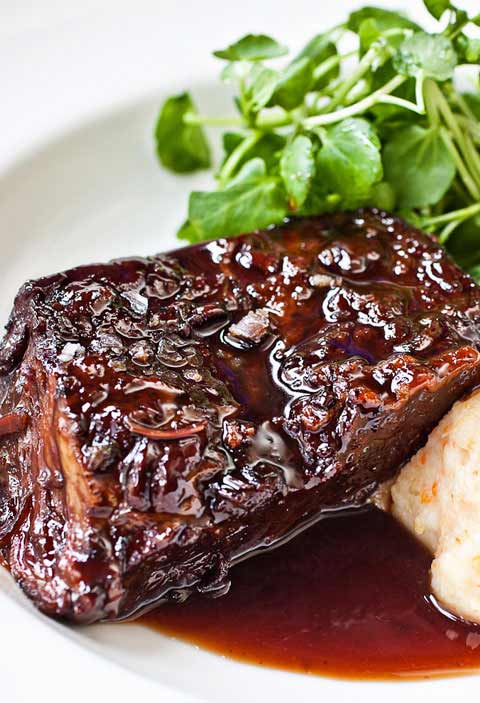 Serves 4
Ingredients for Root Vegetable Puree
3 Parsnips, peeled & chopped
3 Carrots, peeled & chopped
12 Garlic Cloves, peeled whole cloves
1 large Rutabaga, peeled & chopped
Ingredients for Mash
4 Yukon Gold Potatoes
? cup Cream
8 tbsp Butter
Salt
Ingredients for Braised Beef Short Ribs
4 boneless Beef Short Ribs
5 ribs of Celery
2 Onions
3 Carrots
4 Garlic Cloves
? bunch of Thyme
2 Tomatoes
1 cup Red Wine
2 cups Beef Broth or Veal Stock
2 cups Chicken Stock
Salt & Pepper, to taste
Method for Root Vegetable Puree
? Place parsnips, carrots, garlic cloves and rutabaga in a roasting pan, season with salt and pepper.
? Roast at 350°, covered with foil for about one hour until fork tender.
? Then chop by hand or put through a rice mill. This will be folded into mashed potatoes.
Method for Mash
? Boil potatoes until cooked through, drain and add cream, butter and salt to taste.
Method for Braised Beef Short Ribs
? Chop celery, onions and carrots into large dice, and sauté over medium-high heat until they start to take on golden brown color.
? Season shortribs with salt and pepper and sear in a sauté pan over medium-high heat.
? Remove and deglaze with red wine.
? Reduce by half and add beef broth or veal stock and chicken stock.
Wild Olive – 2867 Maybank Highway, Johns Island, SC
Fennel Sformato
Serves 10
Ingredients for Fennel Sformato
2 cup Fennel
2 tbsp toasted ground Fennel Seeds
? cup Fennel Fronds
2 ? cup Heavy Cream
? cup grated Parmesan
1 tbsp Cornstarch
4 count Eggs (1 yolk, 3 whole)
Method for Fennel Sformato
? Pre-heat the oven to 250o.
? Steep the shaved fennel in heavy cream, on a low simmer, for 30 minutes with a sachet of the toasted fennel seeds and fennel fronds.
? Pull off heat.
? Whisk in the parmesan and cornstarch.
? Purée the mixture in a blender and strain through a strainer.
? Whisk the eggs in a separate bowl and temper with the fennel purée.
? Let sit for 15-20 minutes.
? Ladle the mixture into ceramic dishes or aluminum cups that have been sprayed with pan spray.
? Fill them ? of the way full and place in a baking dish with a water bath.
? Cook for about 40-45 minutes or until set. Not runny.
? Pull out of oven and let rest for 20 minutes.
? Serve in a dish or un-mold according to preference.
? Serve with a citrus salad.
Blu Restaurant & Bar – 1 Center Street, Folly, Beach, SC
Pan Roasted Atlantic Grouper
Crispy Pork Belly Dumplings & Sweet Corn Soup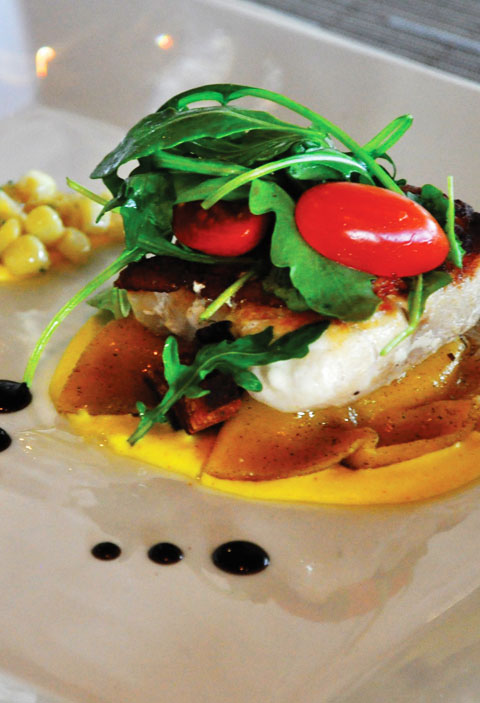 Serves 2
Ingredients for Dumpling Dough
1.75 cups All Purpose Flour
6 Egg Yolks
1 Whole Egg
1.5 tsp Olive Oil
1 tbsp Milk
Ingredients for Dumpling Filling
150 grams Pork Belly Lardons
35 grams Spanish Onion, finely diced
50 grams Red Wine Vinegar
50 grams granulated Sugar
50 grams Pork Stock
Ingredients for Corn Soup
400 grams Corn kernels, roughly 4 ears
300 grams Chicken Stock
300 grams Heavy Cream
1 sprig Thyme
20 grams granulated Sugar
Ingredients for Grouper
2 each 5oz. Grouper filets
Kosher Salt
White Pepper, ground
Vegetable oil for searing
Method for the Dough
? In large mixing bowl add all ingredients and gently kneed by hand until dough is formed.
? Wrap the dough with plastic wrap and chill in the refrigerator for 2 hours.
? Roll the dough through a pasta roller to roughly ?" thick. Once the sheet of dough has been rolled cut the dough into circles with 3″ in diameter.
Method for the Filling
? In sauce pan, render pork belly until crisp.
? Remove and drain on paper towels.
? In same pot add Spanish onion and saute until translucent.
? Next add the red wine vinegar, sugar and pork stock and reduce to syrup consistency.
? Fold in crispy pork belly and cool.
To assemble the Dumplings
? Place 1 tablespoon of filling in center of the dough circle.
? Brush the edges of the dough with egg wash then fold over forming half moon shape.
? Crimp the sealed edges with a fork.
? Repeat the process with the remaining dough and filling
Method for the Grouper
? Season grouper filet with salt and white pepper.
? Place into a hot saute pan with a tablespoon of vegetable oil.
? Reduce the heat to medium and allow thick crust to develop on the fish.
? Once the fish is halfway cooked flip the fish and continue cooking on the other side until cooked through.
To Plate
? Boil the dumplings in salted water for 3 to 4 minutes until tender.
? Ladle the soup into a bowl and arrange the cooked dumplings into the soup.
? Place the cooked fish on top of the dish.
Fat Hen – 3140 Maybank Highway, Johns Island, SC
Shrimp & Crab Hoppin' John
Serves 10
Ingredients for Beans
2 cup dried Black Eyed Peas
1 Ham Hock
4 cup Water
Ingredients for Rice
1 cup Long Grain Rice
1 medium Yellow Onion, diced
7 strips Apple Wood Smoked Bacon, diced
2 tbsp Sweet Butter
? cup Green Onion, minced
2 tbsp Lemon Juice
Hot Sauce, to taste
Salt, to taste
Pepper, to taste
Ingredients for Shrimp & Crab
1 tsp Olive Oil
2 oz White Wine
3 oz Chicken Stock
? oz julienne Zucchini
? oz julienne Squash
? oz julienne Carrot
1 oz Garlic Butter
50 Shrimp
2 oz Jumbo Lump Crab Meat
Method for Beans
? Rinse the beans.
? Put the beans in a medium sauce pot and cover with water. Add the ham hock to the beans.
? Bring the water to a boil and cook until tender. To speed up the cooking time, soak beans overnight.
? When the beans are tender, strain and cool. Reserve the ham hock.
? When cooled, pick the meat off of the ham hock and add it back to the beans.
Method for Rice
? Render the bacon and sweat the onion until tender. Add butter and melt.
? Add the rice and cook for 30 minutes.
? Cover rice with water, about 1 inch.
? Cook until all liquid is gone and rice is tender.
? Spread rice mixture on a sheet tray and cool.
Method for Hoppin' John
? Mix the rice, beans, and green onion together.
? Season with hot sauce, salt, pepper, and lemon juice.
? Remember, the mixture is cold so do not over season. When the dish is heated back up, the flavors will awaken.
Method for Shrimp & Crab Hoppin' John
? In a sauté pan, add olive oil and heat to a smoking point.
? Add the shrimp and sauté on both sides just to color. Then remove from pan.
? Deglaze pan with white wine.
? Add the julienned vegetables, hoppin' john, and chicken stock to pan.
? Add shrimp back to the pan along with the crab meat.
? Finish with garlic butter and season with salt and pepper. Check seasoning.
? Place on your favorite serving platter and garnish with chopped parsley.
Middleton Place Restaurant – 4300 Ashley River Road, West Ashley, SC
Tasso Ham Red Rice
Serves 12
Ingredients for Tasso Ham Red Rice
1 tbsp EVO 3 Yellow Onions, small dice
2 Red Bell Peppers, small dice
2 Green Bell Peppers, small dice
2 cups Tasso Ham, small dice
4 cups Fresh Tomatoes, peeled with seeds removed
8 cups Tomato Juice
4 cups Rice
Salt & Pepper to taste
Method for Tasso Ham Red Rice
? In a large sauce pot, turn flame to medium high heat and add the EVO, peppers, and onions.
? Sweat until translucent.
? Next add the tomatoes, ham, and tomato juice.
? Bring all ingredients to a boil then add the rice until fully incorporated.
? Lower the heat to a simmer, cover and cook about 15- 20 minutes or until rice is cooked thoroughly.
? Serve and enjoy!
The Boathouse at Breach Inlet – 101 Palm Blvd, Isle of Palms, SC
Local Clam Pasta
Serves 8
Ingredients for Local Clam Pasta
60 Breach Inlet Littleneck Clams
4 tbsp Olive Oil
3 Shallots, minced fine
6 cloves Garlic, minced
4 cups White Wine
1 cup Tomatoes, diced
1 lb Bacon, small diced (preferably applewood smoked)
2 lb Spinach
3 tbsp finely chopped Herbs, such as parsley, chives and basil
Salt & Pepper, to taste 2 lb cooked Pasta, either linguine or fettucine 2 cups Parmesan Cheese
Method for Local Clam Pasta
? Heat the olive oil and bacon in a large skillet over medium heat.
? Add the clams and cover with a lid, steaming the clams for about 4 minutes.
? Add garlic and shallots and sauté for 1 minute.
? Add the wine and cover again until the clams open.
? Add the tomatoes, spinach, and butter. Swirl butter into the sauce to make it creamy and shiny.
? Season with salt and pepper and add the herbs.
? Pour the clams over hot pasta and garnish with parmesan cheese.
82 Queen – 82 Queen Street, Charleston, SC
BBQ Shrimp & Grits
Serves 6
Ingredients for Lowcountry Grits
1 cup Heavy Cream
? lb Butter
1 quart Water
2 cup Quick Grits
Salt & Pepper, to taste
Ingredients for Southern Comfort BBQ Sauce
? lb Bacon, diced
? cup Red Onion, diced
? cup Red Bell Pepper, diced
? cup Green Bell Pepper, diced
2 14 oz Heinz? Ketchup
? cup Brown Sugar
3-4 tbsp Southern Comfort?
Salt & Pepper, to taste
Ingredients for Shrimp
2 lb Shrimp
Method for Lowcountry Grits
? Heat cream and water to a boil.
? Add butter, salt, and pepper.
? Slowly add grits and reduce heat.
? Cook for 20 minutes, being careful not to scorch mixture.
Method for Southern Comfort BBQ Sauce
? Cook bacon until almost done.
? Add onions and peppers, and sauté until done.
? Flame with Southern Comfort?.
? Add all the remaining ingredients.
? Simmer for 10 minutes, then cool.
? Sauce will last under refrigeration for several weeks.
Method for Shrimp
? Sauté, poach, or grill the shrimp.
? Place the shrimp in the Southern Comfort? bbq sauce and simmer for 1 minute.