By Mark A. Leon
Four years ago, I lived on the corner of Morris Street and Rutledge Avenue. Before there was the Sweet Radish, Wild Flour, Brown's Court Bakery, Octobachi or Sunrise Bistro Express, there was a small community garden on Rutledge Avenue between Spring Street and the crosstown. Situated between a bohemian community of students, artists and local residents, this corner plot stood as a representation of nature, community, health, wellness and education manifesting itself into a garden of unified spirits growing harmoniously. One evening after a group dinner at Five Loaves, I was taken to the garden and served up a sixty-minute lesson on all the greens and flowers and their importance in the ecosystem of this community garden.
The garden is gone now and three stories of concrete reside there now.
Fast forward to 2011 through 2016 when Conde Nast voted Charleston America's favorite city, fifteen new hotels and boutiques have been approved for development through 2015, Mount Pleasant became the 9th fastest growing city over 50,000 people and the delicate balance of history, intimacy and simplicity has begun to slip away.
The economy is booming in Charleston. In September, a Charleston company on Daniel Island, BenefitFocus, made its debut on the NASDAQ stock exchange and in December announced 1,200 additional jobs and a $60 million campus expansion.? The new Children's Hospital and development on the College of Charleston is making construction as common as carriage rides.? Can you remember a time there was not construction on the peninsula in any direction.
Boeing's North Charleston project is expected to create at least 3,800 jobs and represents an investment of at least $750 million. There are 2,600 workers in North Charleston working at the former Vought plant that Boeing purchased this summer and the Global Aeronautical facility that is a 787 subcontractor to Boeing. That facility is a joint venture between Boeing and Alenia. Some have speculated that Boeing will have more than 6,000 employees working at the aircraft factory by 2016.
PeopleMatter opened its new sales and customer operations facility at 483 King Street, bringing a new corporate presence to Upper King Street.
The peninsula is below sea level in most areas, which rears its ugly head each time rainfall and high tide create a mix of transportation terror.? Mount Pleasant is the seventh fastest growing city in the United States.? Myrtle Beach, Hilton Head and Charleston are in the top 20 fastest growing coastal communities on the Atlantic. ?? Charleston, South Carolina is projected to see a population growth of 18% plus between 2010 – 2020.
In 2011, in 9 crime categories, Charleston County as ahead of National Averages in 8 of those categories.? This can be factored into wage disparity, economic conditions, population growth and demographic changes in the area.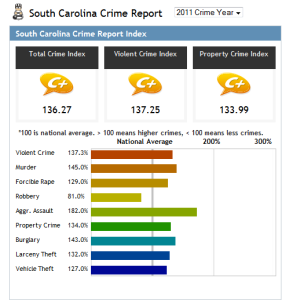 Individual and small business ownership is a critical part of the economic success of the Charleston area.? Food trucks are one key example of the entrepreneurial spirit of Charleston.? With 32 registered food trucks, the concept of the brick and mortar establishment is a thing of the past.
In 2012, it was announced that over 1500 new hotel rooms were being built on the peninsula.? Whether it is the Holiday Inn Express, Bohemian Hotel or Hilton Gardens, the traditional skyline of Charleston is a thing of the past.? Tourism growth.? It is estimated that between 4.5 Million and 4.8 Million tourists visit Charleston each year by cruise ship, plane or car.? This could be damaging to a peninsula that masses 7.6 square miles.
Marion Square by Spring of 2017 will be nearly entirely surrounded by hotels (Marriot Courtyard, Francis Marion, Embassy Suites and Dewberry).? Our beloved corner of Calhoun and King is now a corporate billboard highlighted by Starbucks, Panera, Moe's Southwest, Chipotle and Walgreens.
This influx of residents and tourists are weighing in on the beauty and historic tradition we value.? On Christmas morning, 2012, I walked the streets of the peninsula to bask in the solitary confinement of a city that was free of people and cars.? In the midst of my walk, I encountered a trash and litter at every corner, run down yards and a level of fifth, I never would have expected from Charleston.
The goal of this article is awareness.? You will all hear wonderful stories of praise for Charleston.? We represent all that is good in the world.? We have a state of the art medical facility, beautiful ocean front, a city with the richest historic value in the south and a level of genuine warmth you will not find anywhere else.? We are also losing our identify.? With increased crime, taxation, high end retail, housing development growth, traffic issues, school over-crowding and challenges to our way of life, there are areas we need to look closely at.? We each have a civic responsibility to care for our culture, environment and the value systems we have developed.? If you have concerns, use your civic awareness to raise a voice in your town.
Let's not let Charleston lose its identity.
2015-2016-Charleston-Metro-Chamber-of-Commerce-Economic-Outlook